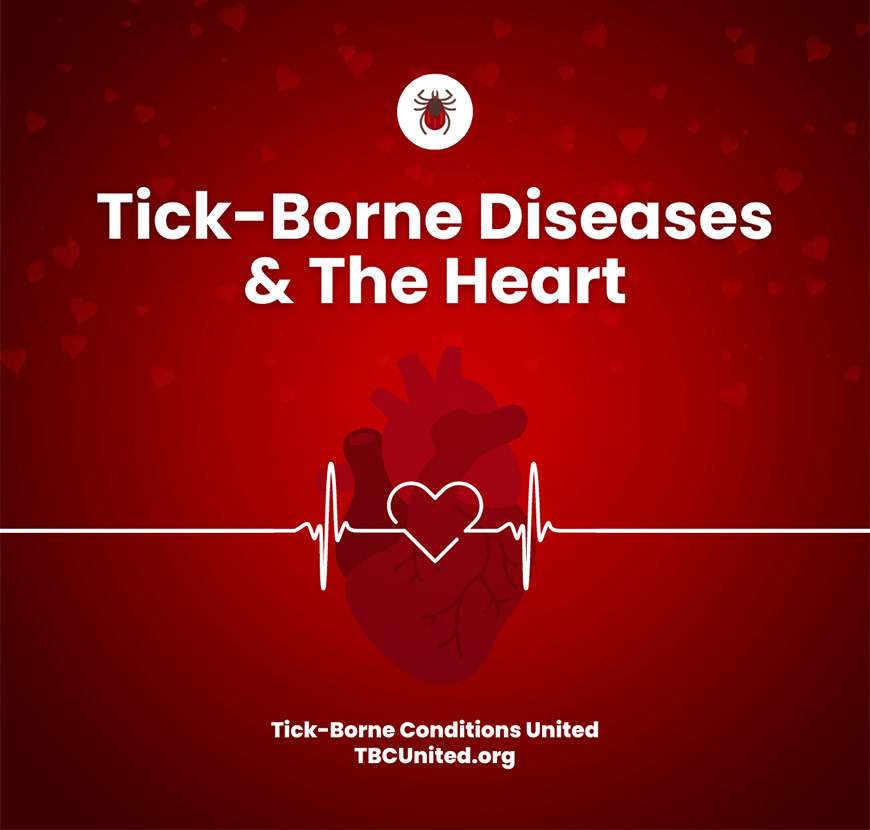 Tick-borne diseases can substantially impact heart health.
Anaplasmosis and Ehrlichiosis
What are Anaplasmosis and Ehrlichiosis?
Anaplasmosis and Ehrlichiosis are two closely related tick-borne bacterial diseases, as the Ehrlichia and Anaplasma species belong to the same family of bacteria. Although each bacterium has a specific target among immune system cells, these infectious agents generally cause the same symptoms.1
How can Anaplasmosis and Ehrlichiosis affect the heart?
Anaplasmosis and Ehrlichiosis have been associated with myocarditis (inflammation of the heart muscle)2 and heart failure.3
Bartonellosis
What is Bartonella?
Bartonella are intracellular bacteria with an inclination toward the lining of red blood cells, macrophages, and endothelial cells. The evidence for ticks as vectors of Bartonella organisms is considered circumstantial but reasonably strong, as studies have found Ixodes ticks can be competent vectors of B. henselae along with Borrelia, Babesia, and Anaplasma organisms.4
How can Bartonella infection affect the heart?
Bartonellosis has been linked to endocarditis5 (life-threatening inflammation of the inner lining of the heart's chambers and valves) and infection of the heart valves.6
Lyme Disease
What is Lyme Disease?
Lyme disease is the most commonly diagnosed tick-borne illness in the United States. It is a multi-system disease caused by infection of Borrelia burgdorferi.
How can Lyme Disease infection affect the heart?
Lyme carditis (inflammation of the heart) occurs when Lyme disease bacteria enter the tissues of the heart, interrupting the movement of electrical signals and beating of the heart. Physicians refer to this as "heart block," which can be fatal7. Less commonly, Lyme disease can also cause myocarditis, endocarditis, valvular heart disease, pericarditis, and myopericarditis.8
Alpha-gal Syndrome
What is Alpha-gal Syndrome?
Alpha-gal Syndrome (AGS), caused by a tick bite, is an allergic reaction to the alpha-gal sugar molecule. Reactions typically occur between 0-10 hours after people eat meat from mammals that have alpha-gal or are exposed to products made from mammals, including some medications, cosmetics, vaccines, gelatin, and milk products.9
How can Alpha-gal Syndrome affect the heart?
Alpha-gal Syndrome has been linked to the buildup of plaque in the arteries of the heart.10
At Tick-Borne Conditions United, we are committed to providing you access to critical information and supportive scientific research. Learn about tick-borne disease prevention at TBCUnited.org.
If you know you have a tick-borne disease or suspect tick exposure and are experiencing heart-related symptoms, we recommend consulting a cardiologist.
TBCUnited.org is a nonprofit 501(c)3 corporation and a community that supports healthcare providers, affected patients and their families, and employers with the latest research, science-based knowledge, and innovations to diagnose and treat tick-borne diseases.
TBC United is also a patient advocacy organization. We contribute to, and help promote the creation of new public policies and legislation that can improve the lives of people with tick-borne illnesses.
Get engaged with us. Visit TBCUnited.org.
Warm regards,
Beth and Jennifer
Beth Carrison
CoFounder and Director of Advocacy
Jennifer Platt, DrPH
CoFounder and Director of Programs
---
Donate To Help Fight Tick-Borne Diseases
You'll Help Fund Education, Research, and Advocacy for the Lesser-Known Tick Conditions.
---
[1] Ismail N, Bloch KC, McBride JW. Human ehrlichiosis and anaplasmosis. Clin Lab Med. 2010 Mar;30(1):261-92. doi: 10.1016/j.cll.2009.10.004. PMID: 20513551; PMCID: PMC2882064. https://www.ncbi.nlm.nih.gov/pmc/articles/PMC2882064/
[2] Malik A, Jameel MN, Ali SS, Mir S. Human granulocytic anaplasmosis affecting the myocardium. J Gen Intern Med. 2005 Oct;20(10):C8-10. doi: 10.1111/j.1525-1497.2005.0218_4.x. PMID: 16191146; PMCID: PMC1490240. https://www.ncbi.nlm.nih.gov/pmc/articles/PMC1490240/
[3] Almaddah NK, Rawal A, Ardeshna D, Hesterberg K, Alsafwah S, Khouzam RN, Yedlapati N. From Tick Bite to Heart Failure: Ehrlichial Myocarditis. CJC Open. 2019 Oct 4;1(6):327-329. doi: 10.1016/j.cjco.2019.09.003. PMID: 32159128; PMCID: PMC7063634. https://www.ncbi.nlm.nih.gov/pmc/articles/PMC7063634/
[4] Cotté V, Bonnet S, Le Rhun D, Le Naour E, Chauvin A, Boulouis HJ, Lecuelle B, Lilin T, Vayssier-Taussat M. Transmission of Bartonella henselae by Ixodes ricinus. Emerg Infect Dis. 2008 Jul;14(7):1074-80. doi: 10.3201/eid1407.071110. PMID: 18598628; PMCID: PMC2600320. https://pubmed.ncbi.nlm.nih.gov/18598628/
[5] Edouard S, Nabet C, Lepidi H, Fournier PE, Raoult D. Bartonella, a common cause of endocarditis: a report on 106 cases and review. J Clin Microbiol. 2015 Mar;53(3):824-9. doi: 10.1128/JCM.02827-14. Epub 2014 Dec 24. PMID: 25540398; PMCID: PMC4390654. https://pubmed.ncbi.nlm.nih.gov/25540398/
[6] Gouriet, F., Lepidi, H., Habib, G. et al. From cat scratch disease to endocarditis, the possible natural history of Bartonella henselaeinfection. BMC Infect Dis 7, 30 (2007). https://pubmed.ncbi.nlm.nih.gov/18598628/
[7] Kostić T, Momčilović S, Perišić ZD, Apostolović SR, Cvetković J, Jovanović A, Barać A, Šalinger-Martinović S, Tasić-Otašević S. Manifestations of Lyme carditis. Int J Cardiol. 2017 Apr 1;232:24-32. doi: 10.1016/j.ijcard.2016.12.169. Epub 2016 Dec 27. PMID: 28082088.
[8] Fadi A. Haddad, Robert B. Nadelman. Lyme disease and the heart. Front. Biosci. (Landmark Ed) 2003, 8(6), 769–782. https://doi.org/10.2741/1065
[9] Commins SP. Diagnosis & management of alpha-gal syndrome: lessons from 2,500 patients. Expert Rev Clin Immunol. 2020 Jul;16(7):667-677. doi: 10.1080/1744666X.2020.1782745. Epub 2020 Jul 8. PMID: 32571129; PMCID: PMC8344025. https://pubmed.ncbi.nlm.nih.gov/32571129/
[10] Bianchi, John et al. Alpha-gal syndrome: Implications for cardiovascular disease. Global Cardiology Science and Practice, [S.l.], v. 2019, n. 3, feb. 2020. ISSN 23057823. http://dx.doi.org/10.21542/gcsp.2019.20