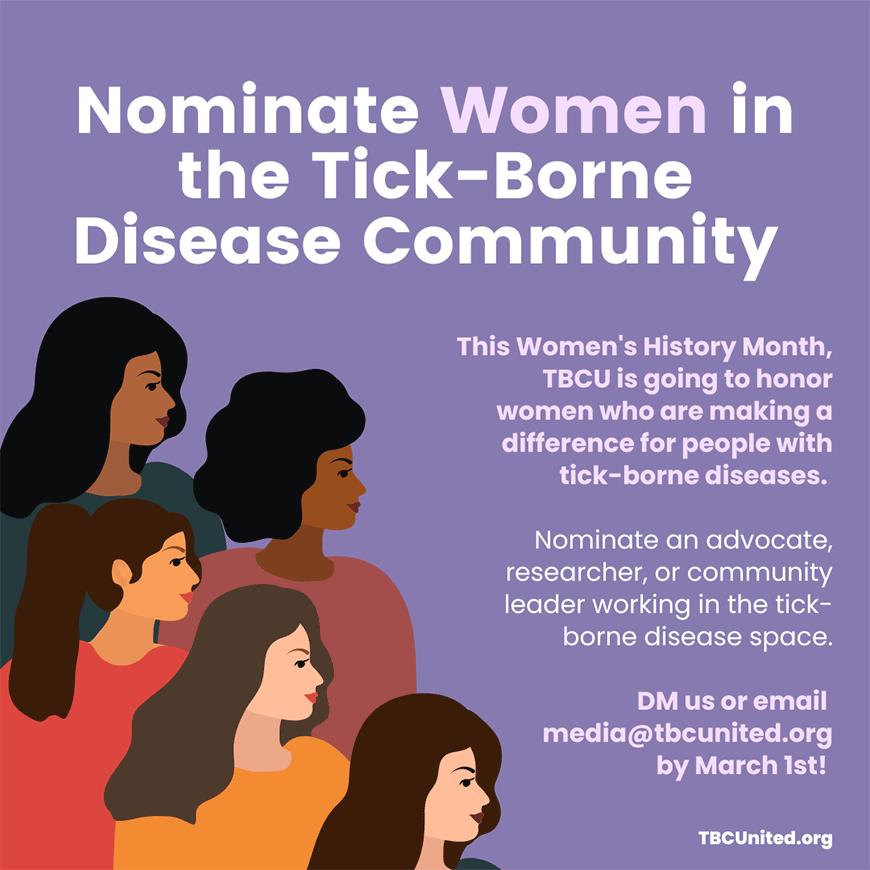 Women's History Month is just around the corner, and we are excited to take the opportunity to celebrate women in the Tick-Borne Disease Community. We want to honor advocates who are making a difference – in ways both big and small. 
That's where you come in!
We need YOU to nominate a researcher, advocate, or community leader that inspires you (and let us know why you're submitting them!)
Here's what to do:
To nominate an advocate, DM us on social media or email media@tbcunited.org by March 1st!
Follow us on our social channels to see the results of this campaign!
Instagram: @tickborneconditionsunited
Facebook: @TBCUnited
LinkedIn: @TBCUnited
Thank you for participating, and thank you to all of our incredible tick-borne disease advocates!
TBCUnited.org is a nonprofit 501(c)3 corporation and a community that supports healthcare providers, affected patients and their families, and employers with the latest research, science-based knowledge, and innovations to diagnose and treat tick-borne diseases.
TBC United is also a patient advocacy organization. We contribute to, and help promote the creation of new public policies and legislation that can improve the lives of people with tick-borne illnesses.
Get engaged with us. Visit TBCUnited.org.
Warm regards,
Beth and Jennifer
Beth Carrison
CoFounder and Director of Advocacy
Jennifer Platt, DrPH
CoFounder and Director of Programs
---
Donate To Help Fight Tick-Borne Diseases
You'll Help Fund Education, Research, and Advocacy for the Lesser-Known Tick Conditions.
---