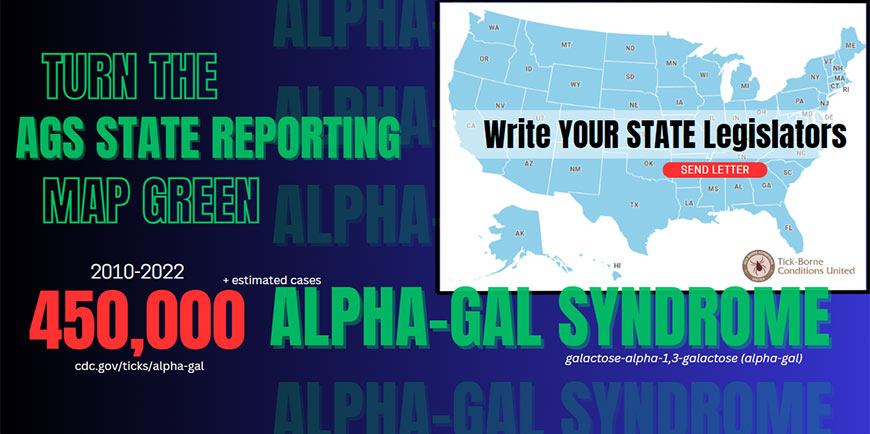 August 10, 2023
Alpha-gal Activists! We need your help! On July 27, 2023,…
What is Lyme Disease?
In the United States Lyme disease is caused by the bacterium Borrelia burgdorferi or the newly discovered Borrelia mayonii. Borrelia can attack all body systems. They produce many symptoms that are similar to other diseases. As a result, Lyme is often referred to as "the great imitator." Women who have Lyme Disease and who are pregnant, or who may become pregnant, should seek care from a knowledgeable health practitioner.
What are the Symptoms of Lyme Disease?
Lyme disease is most well-known for the classic bulls-eye rash — called the Erythema Migrans (EM) rash. However, this rash is found in less than 50% of Lyme patients. Some people develop a rash on other parts of the body, as the disease disseminates. Other symptoms may include:
Flu-like illness;
Fever;
Headache;
Extreme fatigue;
Malar flush, red ear lobes;
Body aches;
TMJ/TMJD jaw pain (temporomandibular joint dysfunction);
Neck and back pain;
Joint pain and swelling, bone pain.
Less Common symptoms:
Heart problems, such as an irregular heartbeat;
Eye inflammation;
Liver inflammation (hepatitis);
Severe fatigue.
Who is at Risk for Developing Lyme Disease?
People most at risk are those who live in areas with exposure to ticks. Most states in the U.S. have ticks that transmit Lyme disease.
When to See a Doctor
If you've been bitten by a tick, or you've been exposed to areas where ticks live and have unexplained symptoms, contact your doctor. It is important to start treatment for Lyme Disease and other tick-borne illnesses as early as possible for them to be effective.
See Your Doctor Even If Symptoms Disappear
Even if symptoms disappear, Lyme Disease can still exist. Lyme Disease is known to spread to other parts of the body for months or years after infection and can cause arthritis and nervous system problems.
How Do I Get Tested and Diagnosed for Lyme Disease?
Your healthcare provider should diagnose Lyme based not only on your test results, but also on your symptoms, medical history, and tick exposure. The Lyme tests currently used can show a negative result when someone actually has Lyme Disease. People can test with a false negative for many reasons, including not enough time to develop antibodies, suppressed immune system, or infection with a strain the test doesn't detect.
Note: The U.S. Centers for Disease Control & Prevention (CDC) has a case definition for Lyme Disease developed for surveillance purposes only, not for diagnosis. Your healthcare provider should not use the surveillance criteria for diagnosis.
For more information see https://wwwn.cdc.gov/nndss/conditions/lyme-disease/case-definition/2017/. For a thorough discussion of the latest Lyme disease diagnosis and testing protocols, visit https://www.lymedisease.org/lyme-basics/lyme-disease/diagnosis/.
What are the Treatment Guidelines for Lyme Disease?
The International Lyme & Associated Diseases Society (ILADS) is the first organization to issue Lyme disease guidelines developed in accordance with the Institute of Medicine (IOM) standards. ILADS Lyme Guidelines address the usefulness of antibiotic prophylaxis for tick bite, the effectiveness of EM treatment, and antibiotics' role in treatment of persistent Lyme Disease symptoms.
The guidelines offer a detailed review of pertinent medical literature and contain the first set of recommendations for Lyme Disease. They're based on the Grading of Recommendations, Assessment, Development, and Evaluation (GRADE) process.
This rigorous review format is used by many other well-respected medical organizations including the World Health Organization (WHO), the American College of Physicians, and the National Institute for Health and Clinical Excellence (NICE) in the United Kingdom.
ILADS Guidelines for the Management of Lyme Disease
How Can I Prevent Lyme Disease?
The best way to prevent Lyme is to avoid areas of tick-infested habitats. In particular, ticks are found anywhere deer live, run, sleep, and feed. Ticks are also found in wooded, bushy areas. Use the following simple precautions:
For People:
Use Repellents. Environmental Protection Agency (EPA)-registered insect repellents.
Cover Up. Wear long, light-colored pants, tucked into socks. Long-sleeved, light-colored shirts, a hat, and gloves. Avoid grasses and leaf litter whenever possible.
Treat Clothing and Gear with repellent such as undecanone, permethrin or buy pre-treated items.
Perform Daily Tick Checks. Check yourself, your children, and your pets for ticks.
Dry your clothes on high for 15 minutes after being outdoors in areas known for presence of ticks.
For Pets:
Use Tick-Prevention. Talk to your veterinarian about recommended products.
Perform Daily Tick Checks, especially after being outdoors.
Remove ticks on your pet immediately. Avoid direct contact with your skin.
For Property:
Tick-proof Your Yard. Clear brush and leaves where ticks live. Keep woodpiles in sunny areas. Use a yard spray to kill and repel ticks.
How Do I Remove a Tick?
Remove a tick as soon as possible with sharp pointed tweezers.
Grasp the tick at the point where it is embedded into the skin.
Don't squeeze or crush the tick, pull it carefully and steadily.
Once you've removed the entire tick, save it in a plastic bag if possible for lab testing, and apply antiseptic to the bite area.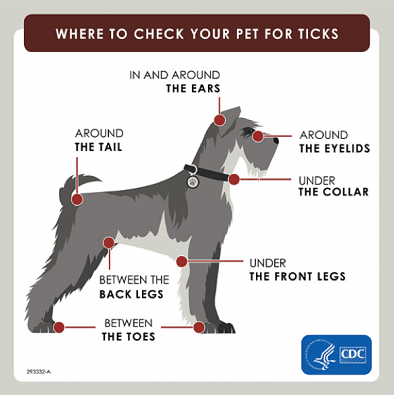 Source: Centers for Disease Control and Prevention; National Center for Zoonotic and Infectious Diseases (NCEZID); Division of Vector-Borne Diseases (DVBD); Page last reviewed: January 10, 2019
Lyme Disease Information Resources Cited
Learn more about Lyme Disease by accessing the following resources:
This material is compiled from multiple respected sources, from TBC United research, and from the experiences of TBC United community members. While we work hard to ensure relevancy and currency, we cannot guarantee the accuracy of all information presented on this or associated (linked) web sites. The content is offered to provide practical and useful information on the subject matters covered. It is being presented with the understanding that TBC United is not engaged in rendering medical or other professional services. If medical or other expert assistance is required, the services of a licensed physician should be sought. If you choose to use preventive products on yourself, your loved ones, or your pets, carefully read and follow your medical professional and manufacturers' recommendations.
Contact Us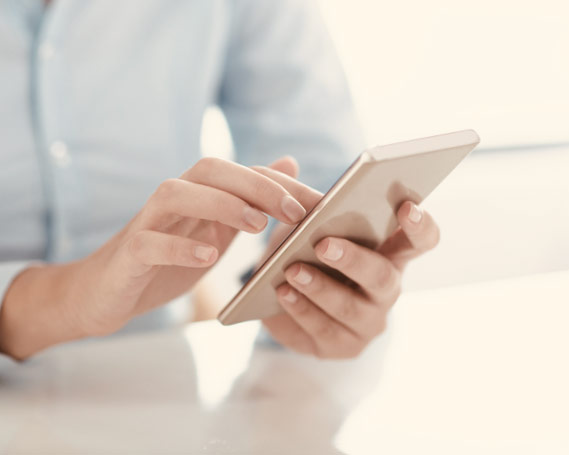 Tell us how we can help.
Please provide your contact info and brief details and we'll respond within one business day, or sooner.