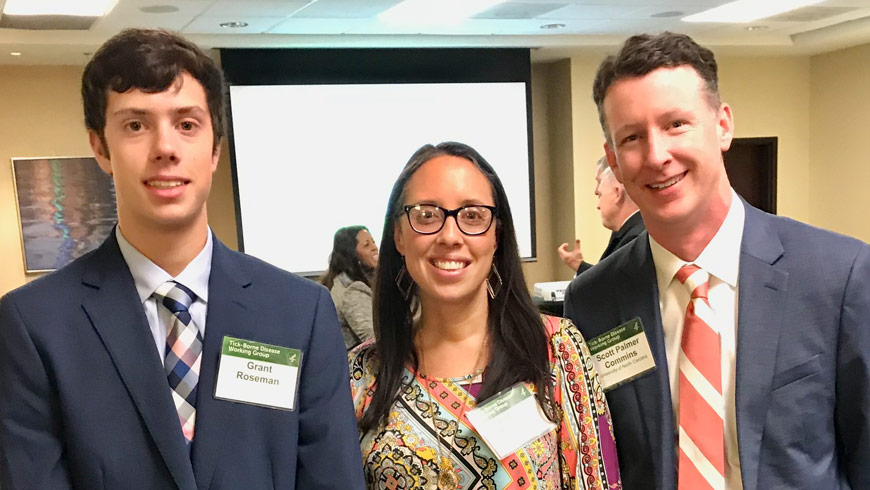 Tick-borne conditions advocates take a time-out at the Tick-borne Disease Working Group (TBDWG) Q1 2020 meeting. Left to right are Grant Roseman, Andrea Roseman, and Dr. Scott Commins, University of North Carolina.
Includes Important Links To Sub-Committee Reports On Alpha-Gal Syndrome, Babesiosis, Ehrlichiosis, Lyme Disease, And Rickettsiosis
TBC United Cofounders Beth Carrison, INHC, and Dr. Jennifer Platt visited the nation's Capitol twice in the past several weeks to put forth vital education, research, and advocacy work.
First, we attended the Tick-borne Disease Working Group's two-day meeting Jan 28-29. TBCU invited multiple contributors to provide input during the public speaking sessions each morning. These included:
Marlene Jones, new TBCU Board member, who spoke about nearly dying from Ehrlichiosis and Rickettsias;
Charlotte Meyer, Alpha-gal Syndrome (AGS) patient, who shared testimonials from people diagnosed with AGS;
Grant Roseman, 16, spoke about his experience with Alpha-gal Syndrome for eight years, and his award-winning scientific research;
Andrea Roseman, Grant's mother, spoke about the stress of having a child with Alpha-gal;
Dr. Jennifer Platt, TBCU Cofounder, advocated for desperately needed education and the eco-friendly management of ticks; and
Kenneth Kozak, US veteran, discussed his challenges in navigating the Veterans Administration healthcare system with a tick-borne illness.
After hearing from the public each day, the Working Group reviewed multiple subcommittee reports on tick-borne conditions (including Ehrlichiosis, Rickettsiosis, and Babesiosis) in preparation for their 2020 Report to Congress. All reports were well received, including the Alpha-gal Syndrome Subcommittee Report, to which TBCU Cofounder Beth Carrison contributed as a member. Here are links to the individual reports:
Dr. Platt was in DC again for the Center for Lyme Action's first-ever "fly-in" Feb 11-12. The Kay Hagan Tick Act was passed in December 2019, but now needs funding to enact. Sixty advocates from around the U.S. flew in to make the case to members of Congress.
Jennifer joined three other advocates from North and South Carolina and spent six hours visiting key staff for our members of Congress. The goal was to educate them about the importance of the Tick Act and other measures needed to support tick-borne disease research.
Also attended, was the Tick-borne Disease Working Group's meeting in Philadelphia this week, March 3-4. The Working Group will spend two full days reviewing recommendations from seven subcommittees. Dr. Platt was a speaker on the morning of March 4. You can view the agenda here, or tune in anytime, here.
If you have any comments on the reports linked above or you have other feedback for the committee, please write them at tickbornedisease@hhs.gov.
Share Your Alpha-gal Experiences. Take the Survey!
Please click here to begin survey.

Filter by Topic: